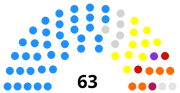 The Revolutionary Party of Hypothetical Hurricanes Wiki was a political party of Hypothetical Hurricanes Wiki (HHW). It lasted from September 25, 2015 to April 20, 2016.
It was founded by HurricaneMonster (later known as CycloneNkechinyer). Support for the party was initially fairly strong from October 2015 to February 2016. By February 2016, the party began to lose support, and by late April 2016 the party dissolved altogether. Party support crashed on February 26, 2016, as many HHW users began to question the party's platform.[1]
The party's government suffered two coup d'etats during their leadership at HHW, one failed attempt on November 9, 2015[2], and one successful attempt on February 26, 2016.
Platform
Common beliefs of the Revolutionary Party include:
Global block of all underage users that attempt to join HHW
Spamming ban
Small staff numbers (5 administrators at most with 2 bureaucrats maximum)
No user rights requests
Harsh, aggressive treatment of misbehaving users
References
Ad blocker interference detected!
Wikia is a free-to-use site that makes money from advertising. We have a modified experience for viewers using ad blockers

Wikia is not accessible if you've made further modifications. Remove the custom ad blocker rule(s) and the page will load as expected.