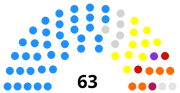 The TEA Party, also known as the Terrifically Excited Animals or Good job, tally ho Party, is a HHW political party.
History
The TEA Party was founded by LeBoringJack after returning from his more than a month-long 'vacation' to Siberia. He was inspired by tea. Because he loves tea. Specifically, tea with a 1:1 ratio of Milk to Water, with one teabag, stirred in with 3-5 sugar lumps. Mmm.
Ad blocker interference detected!
Wikia is a free-to-use site that makes money from advertising. We have a modified experience for viewers using ad blockers

Wikia is not accessible if you've made further modifications. Remove the custom ad blocker rule(s) and the page will load as expected.